The Fritz tiny home has a modern Scandinavian style with large windows and a spacious open floor plan, it even has a bathroom with a soaker tub!
This modern tiny home has a beautiful living room, full kitchen, luxury bathroom, tall loft and alot of storage space.
It is open and airy, and blends natural textures of white oak, vertical grain fir, and custom concrete. The varied rooflines give architectural interest, and nine triple-pane windows flood the interior with natural light.
What is the price? Starts at $115,000.
What are the dimensions for this tiny home? 24'L x 8'6″ W x 13'6″ H
Where is built? In Alberta, Canada.
The house combines beautifully black metal standing seam and wood textured aluminum siding. The architecturally varied roof-lines bring a dynamic and unique visual that catches the eye from any angle.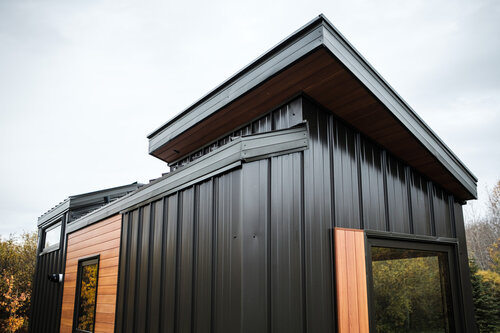 Moving to the interior you'll find a bright and open floor plan that marries high-quality details and luxurious design touches into every square inch. A couch, with built in custom storage underneath, and a vertical fir feature wall, with back lighting, creates a living space that accommodates social gatherings or cozy quiet nights in with loved ones.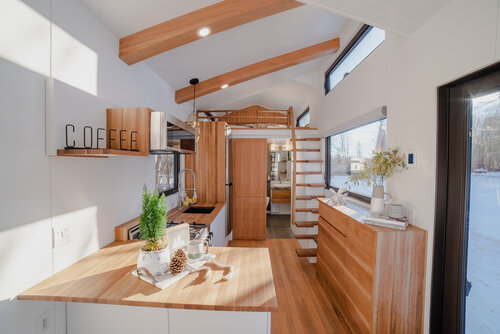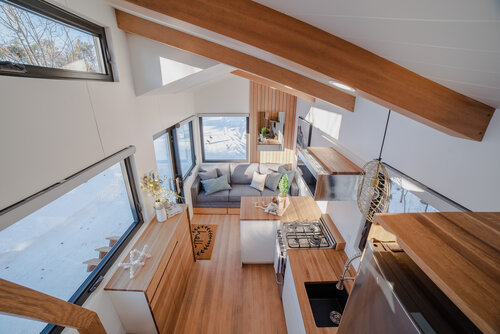 ‍
The full sized kitchen boasts modern flat white cabinets with toe-kick storage, butcher block countertops, stainless steel appliances, and an eating bar. The ceiling is clad with baltic birch wall panels and timber beam features with inset flush LED lighting.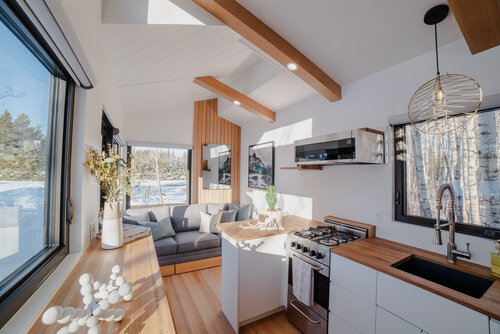 The full-suite luxury bathroom features a full-sized soaker tub with rain shower head, a waterless toilet, custom poured tile floor and a concrete wall (glass beads were put into the pour to lighten the weight of the concrete by 37% and also adding R-value), and a white oak vanity.
‍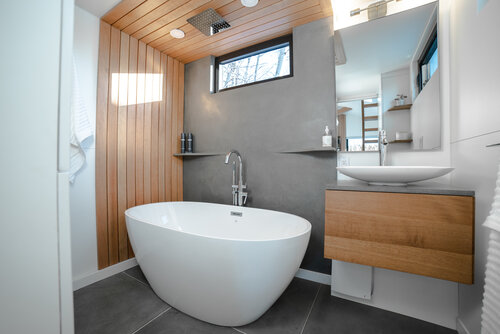 An innovative left/right stair-ladder system, with custom storage underneath, leads to the master loft where you'll find a loft bed sunk down to the ceiling to buy an extra 4 1/4" inches of headroom in the loft. Custom built storage was placed on either side of the bed.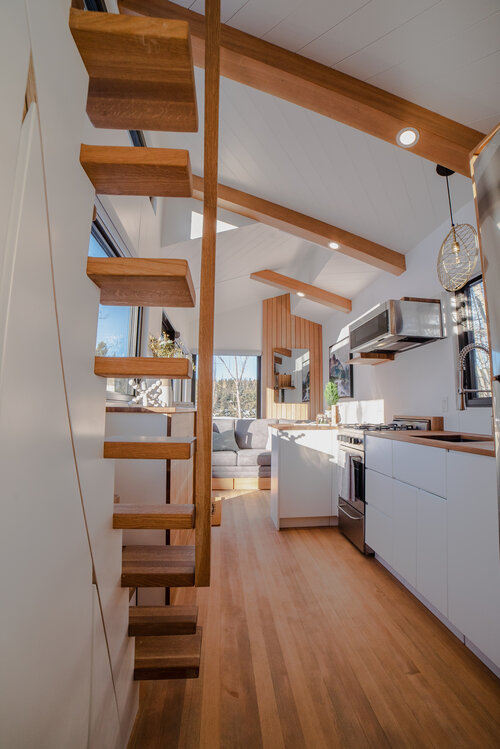 This tiny home has a tight thermal envelope to withstand the cold climate it was built for. The home is headed with 2 Ember Infrared heated mirrors by Warmly Yours. These are on a thermostat and are the main heat source due to the incredibly efficient building envelope we made. The small house was framed with off-set 2×4 stud construction and spray foam insulation which helps eliminate thermal bridging.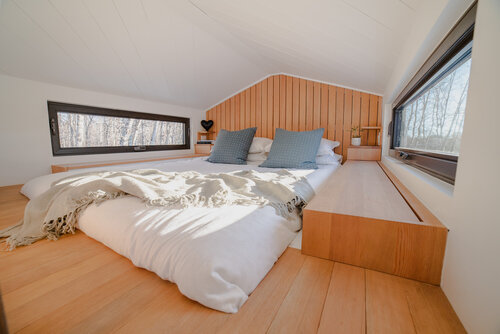 24′ Modern Scandinavian Tiny House Tour 
Technical Specifications
BASE PRICE(USD) – $115,000
SQUARE FEET(SF) – 268
SF – SLEEPS Up to 2
LAYOUT – 1 Loft Bedroom | 1 bath
BUILT BY – Fritz Tiny Homes
SHIPS TO – Canada and USA
TYPE – Tiny House on Wheels
DIMENSIONS(in FT) – 24′ x 8.5′
More info at: https://www.fritztinyhomes.com/fritz-tiny-homes-builder-our-homes/the-fritz